Artisan Bakery
Doug Hudson
In 2007, we started baking artisan breads for use in our restaurant and for sale here and in stores and at markets throughout the region. Our new baker, Doug Hudson, is the former owner of The Laughing Clam. He and his wife, Ashlee, recently relocated here after attending culinary school and baking on the Oregon coast. We are excited to have him on board and producing our finest slow-fermented artisan breads.
The Starter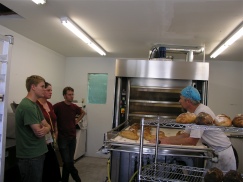 Regular visitors to Grants Pass Growers Market of a few years ago will remember Alan Lurz, possibly the finest artisan baker this area has seen. Alan worked at Summer Jo's three years ago before taking his family to Vermont.
It was Alan's artistry that inspired Summer Jo's artisan bread line, although our chefs have baking experience. So when Nancy decided it was time to move up to the next level, she flew Alan back from Vermont for a week to train our staff, develop recipes, and do the shakedown runs on our new bread oven.
Nancy calls it the Mercedes oven. There is a place for technology even in art, and she knew we needed a top-of-the-line oven to go where she wanted to go in breadmaking. Our new four-bay oven in no way detracts from the artistry of the breadmaking, but it will allow us to achieve a high standard of consistency and level of productivity.
The loader ensures that all loaves go into the oven at the same time, the retarder and proofer maintain precise temperature and humidity at key stages in the process, and the slicer is, well, the best thing since sliced bread.