Get yer JO JO BUCKS
Available exclusively at Summer Jo's!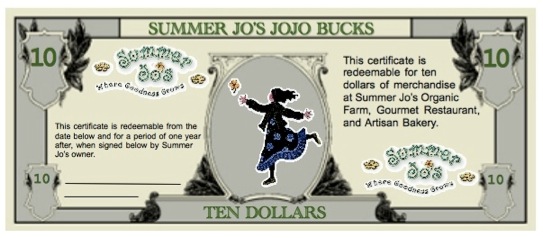 It was with sadness and trepidation last October that we closed Summer Jo's doors. It was the first time in twelve years we'd shut down for the whole winter. It was heartbreaking to say good-bye to employees and friends who had been with us for years, not knowing for sure if we were going to be able to reopen come Spring.
But here we are, with a talented, enthusiastic staff, hope of an improving economy, more hours of daylight, and warmer weather. Our spirits are lifted, our outlook is optimistic, and we've got some great stuff planned for this year.
But relaunching is still a challenge. We have to front money for food, wine, insurance, and marketing before any money comes in. That's why we came up with Summer Jo's JO JO BUCKS.
For $9, you can purchase a $10 JO JO BUCK, good for $10 on Summer Jo's purchases at the restaurant, the farmstand, or Grants Pass Growers' Market. You can purchase as many JO JO BUCKs as you like, and they can be used starting one month from date of issue, and up to a year after that.
What you get is a ten percent discount. What we get is help with cash flow. By purchasing JO JO BUCKs you are helping Summer Jo's get back on its feet by underwriting its opening and continued operation.
Thanks in advance and thanks for your past support. We've missed you and look forward to feeding you some delicious, nutritious meals.
0