Meet Sophie Jo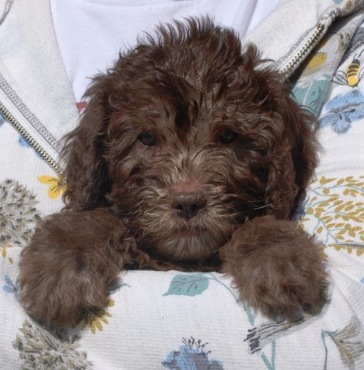 For nine years, our golden Lab Zelda was Summer Jo's official greeter. It took a while before Nancy and Mike could even imagine getting another dog. Zelda was a sweet spirit and we knew we couldn't replace her. Also, it's been 16 years since we embraced the daunting task of raising a puppy. But we've decided it's time to bring another little joybud into our lives.
According to her current Moms, Sophie Jo "is loving and very gentle and sweet." Right now she's working on her skills in chasing tennis balls, giving kisses, and walking around while holding her toys in her mouth as if to show off.
Sophie Jo will arrive at Summer Jo's on Monday, May 4. We will be introducing her to the baby chicks, showing her around the farm, and beginning her education in Summer Jo's manners and decorum. And of course there will be a lot of playing, which is very important for a puppy. And for all of us, come to think of it.
We hope you swing by and say hi to Sophie Jo, Summer Jo's new greeter-in-training.
0